See what some of my students have to say about my golf lessons.
---
Brendan has been the best coach ever. I would highly recommend him to anyone from beginners to pros who are looking to improve their game from driving to putting.
Peter Lawrie, former European Tour player
---
I've had many golf lessons from a lot of golf professionals around Ireland and Brendan sorted out issues with my pitching within 30 seconds. I hadn't used a driver in nearly 9 months and after the lesson I was driving the ball an extra 70 -80 yards. I can now hit it 270 yards of the tee which is not bad for a handicap of 22. In my opinion Brendan gives the best golf lessons in Ireland.
John
---
Brendan is a legend. A few years ago he helped me reach my 2 golfing goals. Get to scratch and play in the south. I reached the last 16 in the south, the high point of my golfing journey. I have enjoyed the game so much since then. even though I can't play as often as I would like with kids and work etc. all the pressure is off my golf game. I can go and just enjoy the game Even if I don't play so well.
Niall Morrison
---
Thank you again for that lesson. First of my life at age 56!!! Did the exercises last night and again today before going up to Leopardstown to hit a few balls off the grass at the back of the range – don't like those mats. Frankly, I couldn't believe the difference the grip and the stretches made.

I'm turning my right hand over as far as it'll go on the club and it feels great. More to the point, the ball is flying straight … and, after doing the prescribed stretches in between each shot, as far as 125-135 yards with little or no effort. Also caught myself following through and finishing up with the left toecap on the ground.

All I can say is 'wow'. Mind you, I'm a bit stiff and knackered, but it was worth it. I won't forget this!
Karl MacGinty, Irish Independent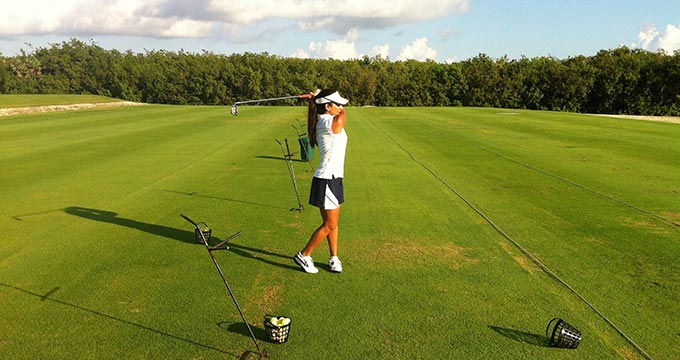 Brendan has an impressive knowledge of the game, but more importantly he can share his knowledge very simply and efficiently. While some coaches confuse players with technical info, Brendan's style of coaching is simple and enjoyable. You leave a lesson feeling that you now know exactly what you must do to improve and also where you previously were making mistakes.

A coach is only as good as his players and the fact that European Tour players and top Irish amateurs remain loyal to Brendan speaks for itself.
Stephen L.
---
One of the best sayings that I have come across in sport was in a newspaper article about Jerry Flannery the rugby player, where he said that 'bad coaches coach generalisations, and good coaches coach specifics.

I think this is very relevant to golf where as amateurs, we all have weaknesses or nuances in our golf swings. Brendan's main talent is in his ability to identify what is causing your bad shots and also what you need to work on to bring your game to the next level. He does not work on generalisations or aesthetic parts of the swing without a justifiable reason.

In addition to this, the practice drills that Brendan gives are an important part of the improvement process and they provide a level of feedback that allows you to monitor your own progress in between lessons so that you are getting value for money.

If you are to analyse the age profile of the world's most renowned teaching professionals they normally reach their prime in the autumn of their lives (e.g. Butch Harmon, Bob Torrance, David Leadbetter). And without doing Brendan a disservice, he is now reaching his prime!
Thomas Neenan
---
My lessons with Brendan are really paying off. I got cut to 9 two weeks ago after a 69 in a medal and had 41pts in a cup today, which should get me cut to down to 8.
Niall (Limerick)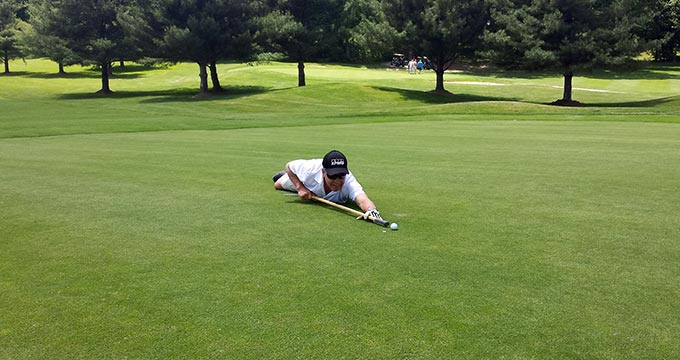 Having access to a PGA tour coach of Brendan's calibre is fantastic. By taking regular lessons I have seen huge improvements in my game. He truly cares about the results you have out on the course after his instruction. Brendan is really personable and so the lessons are always enjoyable.

His coaching is simple, intelligent and genuine. I would wholeheartedly recommend Brendan to any golfer looking to improve.
Colin (Dublin)
---
Hi Brendan, just to let you know your job is safe!! You might remember you said you'd quit teaching if I didn't get down to 8 by the end of summer. Well, I was cut to 7.3 today. We'll have to get together to plan how to get to 5 when I get back from holidays!
Ray (Wicklow)
---
Since I have started working with Brendan last year my game and confidence has improved immensely. My swing has is more reliable and short game is sharper through his guidance while all the time lowering my scores. Brendan is a top class coach and what's more, a true gentleman.
Brendan
---
My drive, always consistent, completely disintegrated recently and I was unable to correct it myself. I went to Brendan. Within a week, he had me hitting far better drives. He was able to identify and correct my faults immediately in a very straightforward manner and I could relate to his coaching technique easily.

He is very encouraging no matter what level you are at and is very dedicated to his craft. I cannot speak highly enough of how impressed I am with his coaching skills. He is superb and I will continue to work with him.
Majella
---
I've had loads of lessons from Brendan over the years. I've followed him from Cork to Dublin and Kildare. This says a lot about the quality of his coaching, because I live in Limerick!
Fergus (Limerick)
---
When I started getting lessons from Brendan, my handicap was 10. Now it's down to 4. We have had a great journey on the way and now I have a new friend also. Thank you Brendan.
Shirley (Limerick)
---
Brendan's Golf Lessons took me from a 19 handicap to a 3 handicap in just four months. Incredible!
Niall Hickey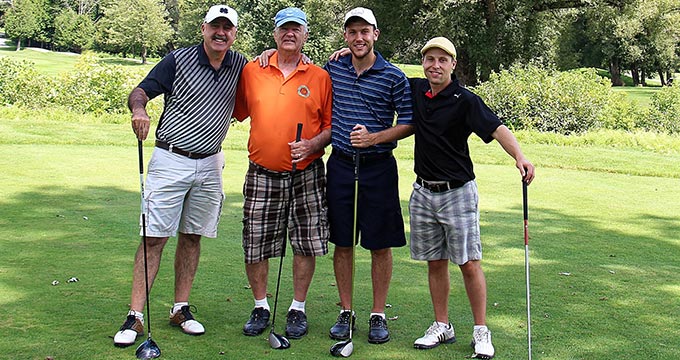 After years of talking about it, I finally decided to get a few lessons and was recommended Brendan by a low handicapper friend of mine. Brendan has a wealth of experience and has the ability to coach and get his point across in a friendly, relaxed and uncomplicated manner. I was amazed by how much my swing and accuracy improved in just a couple of lessons. I would highly recommend Brendan if you are looking to improve any aspect of your golf.
John Mc (Clare)
---
Your putting lesson has had an immediate effect. I had 28 putts in my first round today using your new putting method, in doing so it helped reduce my handicap from 5 to 4.
D Nagle (Limerick)
---
Hi Brendan, just wanted to let you know that I won the top nett score in the Lady Captain's Prize yesterday with 66. I didn't play the first round on Tuesday because I was in Tralee but the top score both days was 75. I got cut 4 shots. It was my first individual prize ever, and I'm absolutely thrilled!
Evelyn (Carlow)
---
I shot one over par this evening on the back nine at Edmonstown. I'm really pleased with that score and my ball striking. Thanks a million!
Brian (aged 17, Dublin)
---
I shot -1 in Claremorris yesterday. I played very well, with five birdies. I'm very happy with how I'm swinging it. Thank you very much for the lesson – it was the best one I've ever had.
Kevin (Cavan)
---
Brendan's number was passed on to me in my home club by a fellow member. To be honest, I assumed the guy must be a buddy of his. He was a bit too full of praise for him.
I decided to check it out and booked a lesson in August.

I knew after 10 minutes that I'd be booking a few more. His teaching suited me perfectly. His down to earth demeanour had me at ease instantly. The instruction was clear and easy to understand. His hands-on approach and use of drills gave me a real feel for what it was he wanted me to implement & practise. The video analysis was the icing on the cake. Essentially, I have a video record of all three lessons, that I refer to regularly, thanks to the recordings he has emailed me.

I played off 14 in August. My third lesson with Brendan was in late September and now a month later, I play off 9. It's no surprise I'll be seeing him again.

I'm sure there are many at the club who think I'm a buddy of his now, because whenever I'm asked about my swing/progress, I pass on Brendan's number with a few superlatives thrown in!
Michael (Donegal/Dublin)
---
Brendan has helped me transform my game from an absolute beginner to an 18 handicapper in the space of 12 months. His technique centres on providing an understanding of the fundamentals of the game, and then building a swing technique tailored to the individual's needs. His approach allows me to concentrate on core elements of my game when out playing, and he then refines them in the practice sessions. Working with Brendan has helped me love the game of golf and I never hesitate in recommending his classes to friends or colleagues.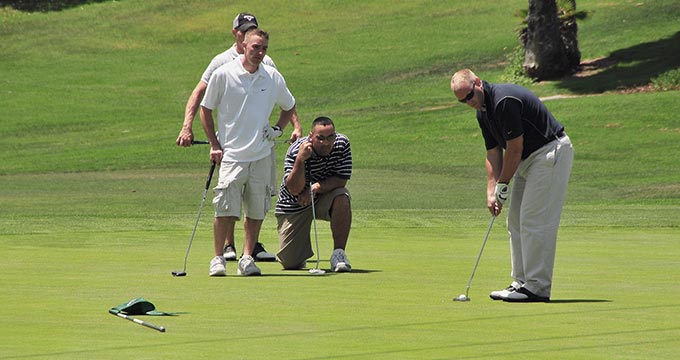 Just to let you know I thought today's lesson was great. Being able to see what an improvement can be made by understanding the process of angles and numbers makes it so much easier to go out and practice, as the more work that goes in, the sooner you will see the benefits. I finished off the basket of balls today. Once I practiced the proper swing you showed me a few times between hitting each ball, it went exactly where it was supposed to go. Looking forward to next week! Thanks.
---
Brendan took around 30 of us for group lessons for five weeks. The skill level amongst the group ranged hugely but Brendan was able to cater for each person according to their individual needs. We all found him very personable and I think each one of us came out of the lessons a better golfer. We'll be back to him again!
---
I have been a high handicap player for several years. I used to play well but lost it completely, couldn't get it back and was going to quit the game for good. I hit slices, duck hooks, shanks and anything else you can think of. Then I was referred to Brendan McDaid for the answer.
---
I have had only four sessions with Brendan and now I have started to play 2 or 3 strokes under my handicap (which is soon to be reduced)… all because of Brendan's teaching methods. I now know what I have been doing wrong and how to correct it, thanks to Brendan.

It is, once again, a joy to be on the course and know that I can play well and have fun. If you (or anyone you play golf with) need help with your game, want to improve your already steady game , or want begin to learn to play the game of golf, contact Brendan McDaid as soon as you can! You will not be disappointed. He has saved my game and He will save your as well. I can't say enough about how easy his instructions are or about his way of encouraging his students.
John M.
---
Just a quick note to say cheers for tonight's lesson. It was hugely beneficial and I think the Trackman is a super addition. Thanks again, and see you on the 6th!
Stephen
---
We have worked closely with Brendan on several corporate outings. His attention to detail with the clients and guests was exceptionally high. This was followed up with individual swing analysis DVDs, which were forwarded to the client after the event.

Brendan also ran group lessons with the guests when they returned from their game of golf. On the DVD, Brendan allowed time for the client to welcome their guests for the day, with a corporate message from their company.
Derek Sherwin, Mary Crotty Public Relations